what is the difference between a recoilless rifle and a RPG? beside the fact one doesn't use a rocket if i recall and one does

GreyApothecary

Minion




Number of posts

: 201


Location

: I Don't Know.....


Registration date :

2010-09-20



Recoilless rifles used rockets, RPGs use grenades. I also believe RPGs have a smooth barrel while recoilless rifles are rifled.
_________________

Angatar

Lord's Personal Minion




Number of posts

: 3862


Age

: 24


Location

: Long Island


Registration date :

2008-07-18



also, an RPG doesn't contain the round entirely within itself.

KristallNacht

Unholy Demon Of The Flame




Number of posts

: 5087


Location

: San Diego, California


Registration date :

2008-06-24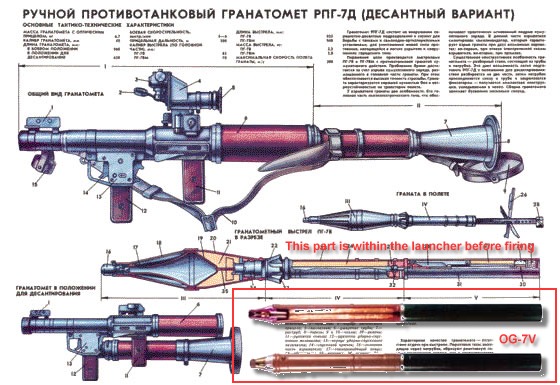 "RPG" is a bit of a misnomer, as it is a backronym of the Russian name for the weapon. Arguably, they're just rockets, although you can distinguish between other rocket weapons (M1 Bazooka, Panzerschrek) in which the warhead fits inside the tube and is loaded from the back. Since the warhead is outside the pipe, this allows it to be larger, granting more penetrating power and more freedom for warhead design. However, as a rocket, they are self propelled for the first five seconds of flight.
A recoilless rifle would ideally be rifled and recoilless gun would not, but recoilless rifle is often used for both. The propellant is expended entirely inside the firing chamber of the gun, and is vented backwards to counter the recoil of the bullet. Additionally, the rounds resemble bullets more than they resemble fin-stabilized rockets.

Rasq'uire'laskar

Crimson Scribe




Number of posts

: 2927


Age

: 29


Location

: Follow the cold shivers running down your spine.


Registration date :

2008-06-29



Rasq'uire'laskar wrote:
I'm afraid my Russian's a little rusty.
Anyone care to translate?


PiEdude

Crimson Jester




Number of posts

: 4573


Age

: 26


Location

: In the middle of a hollowed crust.


Registration date :

2008-03-24



I'm pretty sure RPG stands for something along the lines of "shoulder-fired anti-tank grenade launcher".
_________________

Angatar

Lord's Personal Minion




Number of posts

: 3862


Age

: 24


Location

: Long Island


Registration date :

2008-07-18



also RPG is shape charge, a recoilless rifle is a cannon

to my understanding anyway



Vtrooper

Crimson Henchmen




Number of posts

: 2885


Location

: The reaches of Space


Registration date :

2008-07-10





Similar topics
---
Permissions in this forum:
You
cannot
reply to topics in this forum